Sell Any and All Protection Plans
You sell various vehicle protection plans on Automobiles, SUVs and Trucks for coverage such as extended service plans, maintenance plans, road hazard, roadside assistance, appearance protection, theft protection and much more.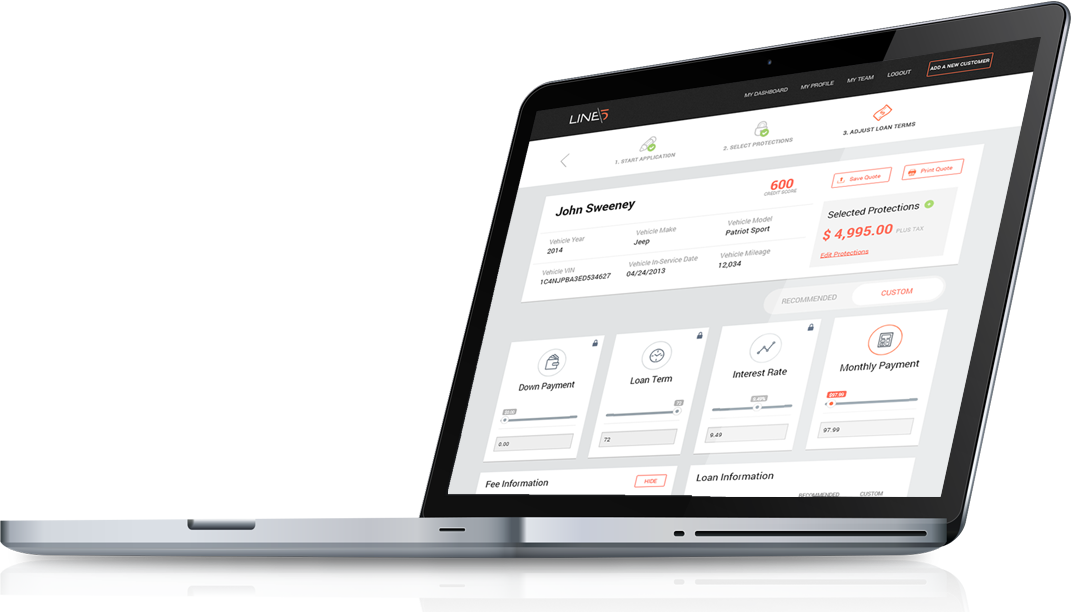 Affordable Financing with NO Limits
Line 5 will fully fund and finance the total amount of each and every protection plan a customer wants – even beyond line 5 conditional approval limits – with instant, guaranteed approvals, making it easier for you to sell more protection plans to more customers.
Extremely Flexible Rates and Terms
Line 5 allows you to adjust interest rates and extended term length – enabling you the flexibility to adjust the loan to meet your customer's budget and close the deal instantly.
No Money Down with Low Monthly Payments
Each consumer's interest rate is based on his or her credit worthiness. However, they are not required to make a down payment AND we will finance the loan to the full extent of the coverage term and even longer – so Line 5 can be much more affordable month-to-month than traditional extended service plan financing.
Increase Your Income Potential
You make your normal commission on each protection plan sold. All you pay Line 5 is a percentage of the total amount financed which will be deducted from the funding amount sent to your dealership. And, funding will be delivered within 48 hours of a completed and signed application submission – guaranteed.